Blog
Posted on May 7th, by Squid in
Blog
.
Comments Off
Monday May 7, 2007
Thanks to all who came out this weekend!!
Kim Perfetto (NYC) and Peter Bradshaw (Boston)
are going to Dublin!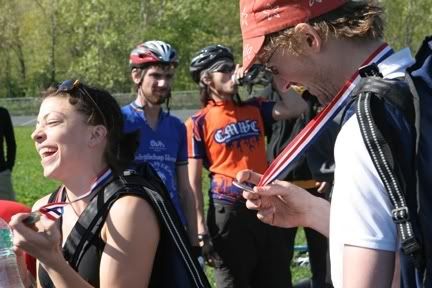 47 Racers!!
Results and pictures forthcoming..
Youtube of Match Sprints from Gary Berger
Thanks to NYVelocity for posting!
Posted on May 5th, by Squid in
Blog
.
Comments Off
Saturday May 5, 2007

Great Party Last Night! Thanks to all the
old and new heads for coming through.
Special Thanks to Steve Stollman and
Pabst Blue Ribbon who helped us raise
$450 for the NYBMF!
Introducing Team 6 Racing!!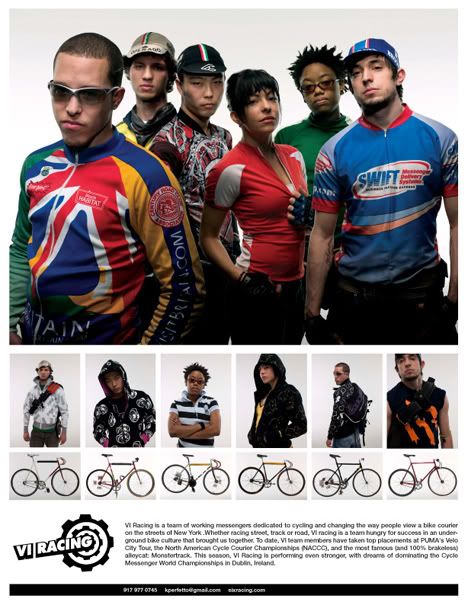 Posted on May 3rd, by Squid in
Blog
.
Comments Off
Thursday May 3, 2007
That's the North American Cycle Courier Champion, Austin!!
Rocking his freshly painted BMW


He is one of the guys to beat on Sunday..
Got the Chrome Bags today, I had to take one out for a spin, NICE!!

Posted on May 1st, by Squid in
Blog
.
Comments Off
REGISTER HERE
SEE WHO'S REGISTERED
SPONSOR PDF
BASIC TRACK RULES
This years tour will hit New York, San Francisco and Chicago. Amateur track racing is drawing a whole new crowd, messengers and city bikers are taking their fixed gears from the street to the velodrome. This event offers skills, thrills, and serious competition.
Cycle Messengers and City Bikers from across North America will compete on teams and individually. Each event will feature general instruction, pace lines and multiple competitions Including Matched Sprints, Miss and Out and Team Pursuit.
New York City, NY May 6, 2007
Kissena Velodrome
!!!Amy's Pictures/May 6!!!
Results and Write Up for May 6
San Francisco, CA May 28, 2007
Hellyer Velodrome
in association with NACCC 07
Chicago, IL June 23, 2007
Kenosha Velodrome
!!My write up and picture links for Chicago!!
- Top male and female messengers from each event will receive R/T airfare to Dublin Ireland to compete in the 15th Annual
Cycle Messenger World Championships!
CMWC Dublin Myspace
- All City Bikers are encouraged to compete. Top male and female will receive big prizes. Snacks, water and sponsor gifts will be given to competitors and spectators.

CHECK OUT PICTURES FROM LAST YEAR'S TOUR:
NYC Velodrome
NYC Party
NYC Alleycat
RIDE SAFELY AND WILL SEE YOU AT THE TRACK!!!
Posted on April 30th, by Squid in
Blog
.
Comments Off
Monday April 30, 2007
Made it for day two of Opening Weekend at Kissena!
Check out some great photos from Andrew Lacorte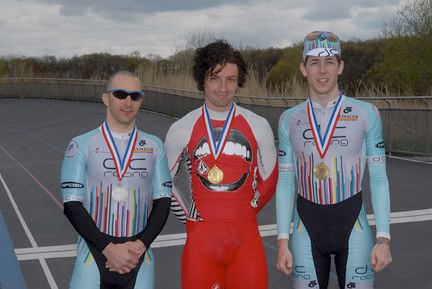 Gold, Silver, Bronze Mens Category 4
I am riding with Bern on the Street!

Posted on April 29th, by Squid in
Blog
.
Comments Off
Posted on April 27th, by Squid in
Blog
.
Comments Off
Friday April 27, 2007
BIKE POLO IN THE N.Y. TIMES GO COREY!


East Side Polo Invite NYC
Posted on April 25th, by Squid in
Blog
.
Comments Off
Wednesday April 25, 2007
KEIRIN BERLIN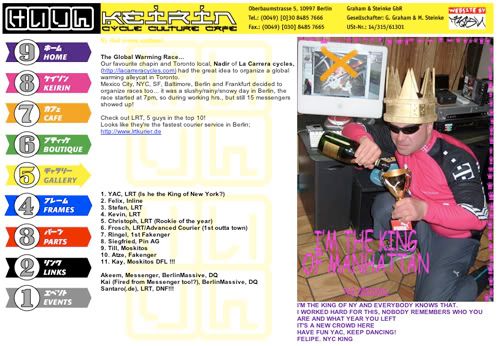 WWF Black Cloud

Posted on April 20th, by Squid in
Blog
.
Comments Off
Friday April 20, 2007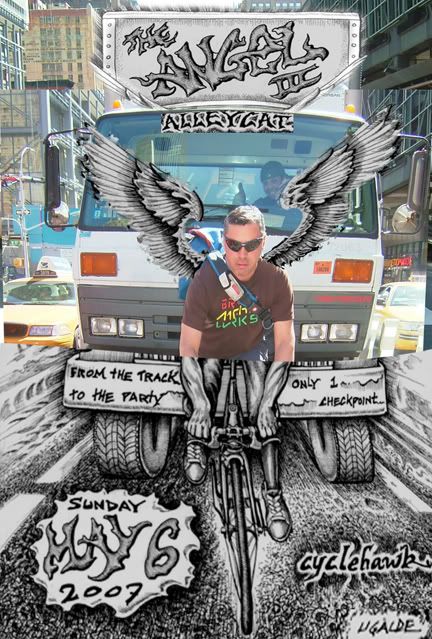 HAPPY FOUR TWENTY EVERYBODY
THANKS MOTHER NATURE!!!
Representing Big Time Kansas City

Posted on April 18th, by Squid in
Blog
.
Comments Off
Wednesday April 18, 2007
My friend Donna at Kryptonite has been sponsoring messenger events for many years! If you are at Velo City this summer you may win some primo street locking equipment!
Check out her new blog! UNBREAKABLE BONDS


Raced* in the 7th Annual R.E.Load April Fools in Philadelphia on Saturday!!
Congratulations to JEFF on the WIN!!!


*got shxthouse drunk
Check out more photos from Erin Nicole Brown
Felipe is rocking the official bandanna..


for Fixed Fight St. Petersberg, FL 4.21.2007
---