Blog
Posted on July 18th, by Squid in
Blog
.
Comments Off
Wednesday July 18, 2007
Cyclehawk Contest #2 is up on the new Match Prints page!

The first six people to get one right, I'll buy you a beer.
Be the first to get all five right and win a limited edition
Cyclehawk Messenger Bag, sweet!!
I have always preferred smaller frames, easier to shred wif!
Don't tell Bike Snob..


It's a cross between a Gamma World Shark and Frankenbike.
Got the one piece stem/bars from Jonny Cycles It did not fit any
of my current rides so I took it to City Bikes and they made it work!

Heres another cat that rides small frames..


INTENSE! ILLEGAL! UNDERGROUND!!!
Posted on July 14th, by Squid in
Blog
.
Comments Off
Saturday July 14 2007
Got a delivery at the 42nd St. office from Obey Giant
Shirts and Stickers for my crew!
That's Carlitos Way looking sharp..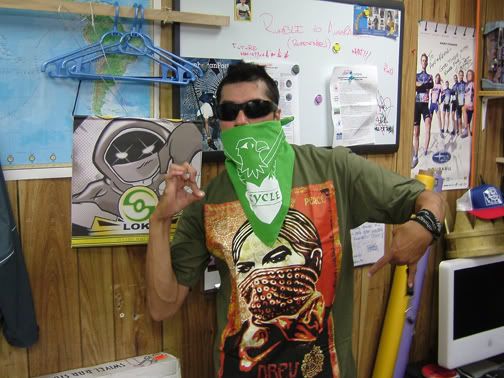 Special Thanks to Ian at Chicken Switch for the connection!
Talked to my good friend Ash last night. If you need an
Ace Photographer in the Richmond Va. area..

Posted on July 13th, by Squid in
Blog
.
Comments Off
Friday July 13, 2007
You asked for it, now with it's own page!!

FIGURE 8 TRACK

FRESH!

Posted on July 9th, by Squid in
Blog
.
Comments Off
Monday July 9, 2007
Spent some time with the Stewart twins at ECMC this weekend..

this kid got a nice ride..



Check out Campo's Corner for the schedule!!
Robbie McEwen!!

Posted on July 5th, by Squid in
Blog
.
Comments Off
Thursday July 5, 2007
My buddy Vince has a great site.
Netherlands, What!! Haute-Courier

I received this awesome handlebar/stem combo at
Velo City Chicago. It's a Hammerhead!!
Special Thanks to Jonny Cycles!

My friend Josh is organizing this event..
CHECK IT OUT DENVER!!!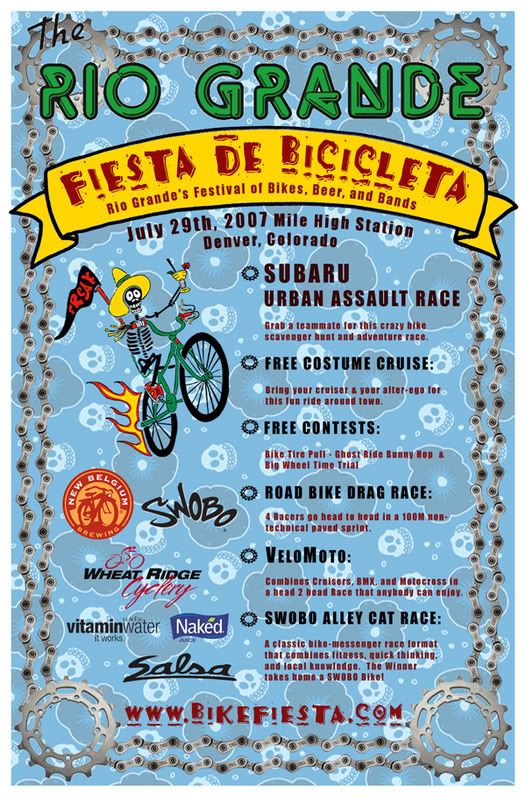 Posted on July 2nd, by Squid in
Blog
.
Comments Off
Monday July 2, 2007

JOHNPETERSMANHATTAN
Visited John Peters at his factory in Kingston, NY.
He is the founder of Manhattan Portage and also
makes bags for CycleHawk!!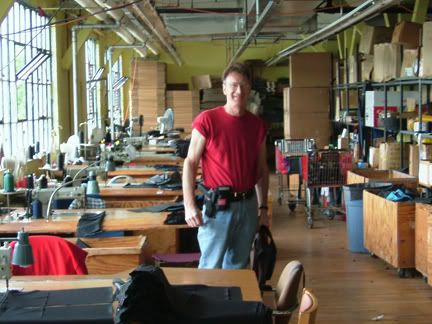 Amy and Keiran by the Co-Op!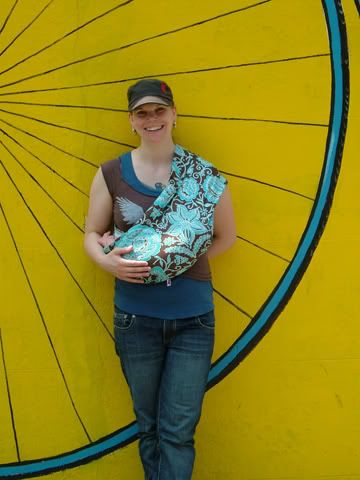 UPCOMING
August 3-7, 2007
15th Annual Cycle Messenger Championships Dublin, Ireland

Pre Event LONDON!!

Post Event AMSTERDAM! Fixt Rookies V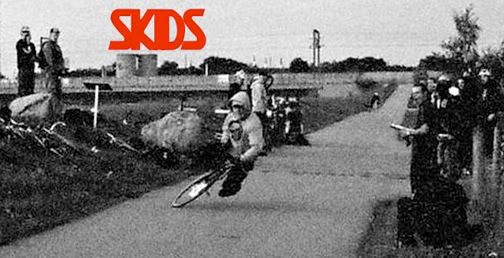 Posted on June 26th, by Squid in
Blog
.
Comments Off
Tuesday June 26, 2007
Want to shout out Markham Travel for working with Velo City Tour!!
Thanks to Mike for helping with the booking and sponsoring!!
Velo City Weekend CHICAGO 2007!!!

Peter DiAntoni Slideshow
Want to say WOW and THANKS! To the Chicago area posse!!
Carlos and I landed early Friday morning on a two day mission to represent and help implement Chicagos second annual Velo City event.
Around 3pm we met up with Val and Brean at Yojimbos Garage. (thanks for the beers Marcus!!)
Brean is a good friend who worked in NY for some time. Val is a great person and also a hardcore racer and organizer! Breans true love, together they promoted and produced the weekends events!
Thanks for putting us up in your awesome apartment! We were drinking beers and such, hope we didnt wreck the place to much!
The alleycat started with 57 riders! Blinged out Ali Gs were given an early start and your mission was to complete your manifest by returning to the start from several addresses. Who would pick the best route and utterly navigate the swift city streets?

Anzie Nelson and Jeff Perkins, thats who!!
I did one checkpoint and then cruised up and down State St. for a while. Getting confused with the upper and lower sreet system (it's pretty cool), I rolled along the river for a while and eventually made it back to the start spot.
Rather than complete another manifest mission, I opted to head for the finish line and meet with Carlos who was filming the race. I did my best Felipe impression and tried to convince the race officials that I had won the race, they were not fooled.
Marc Maclean stepped off the blue line train and joined us. He had come to race the Ali G Cat but his plane was delayed! Marc was also to run registration and results the next day, glad he made it!
We went to the Gold Star for the awards and more beer!!
Ali G Cat on Flickr
more from Alforque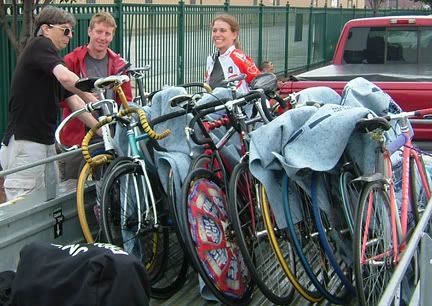 Get it done Crew!
Got rolling (kind of) early and met with a lot of people at a supermarket parking lot.
XXX RACING helped out with a school bus that transported 20+ riders to and from the track!!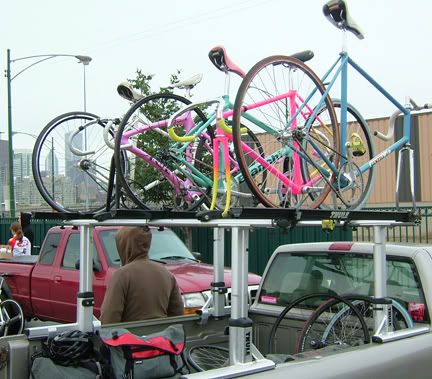 Kenosha is the oldest track in use in the United States!! I was impressed with the condition and was psyched to see Josh who had helped us so much the year before.
Josh ran the days events with my help and our great crew of riders and volunteers!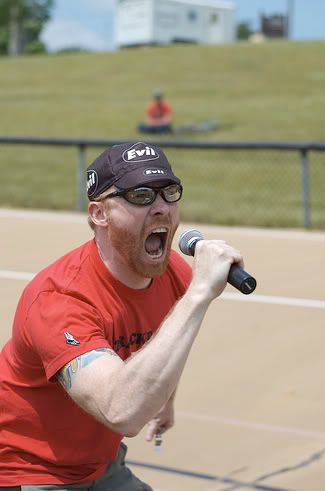 Josh keeping the punks in line.
We divided the pack of 50 into four fields. Women, Messenger Men, City Biker One, City Biker Two.
We started off with Match Sprints. We did heats of five with two advancing all the way through the finals.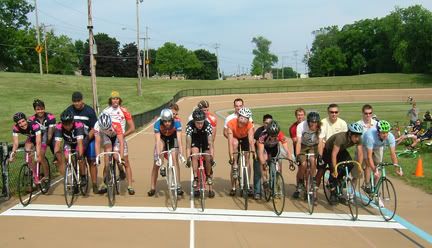 Also we ran a Miss and Out, 10 lap scratch, Tempo, Win and Out and a size 9 Chariot race for a pair of Knog shoes.
The racing was smooth and powerful! No crashes and I feel we may have inspired some new riders as well.

Jen Greenberg and Andrew Nordyke of Chicago (Team Triple X)
won the day and the tickets to the 15th Annual
Cycle Messenger World Championships in Dublin!!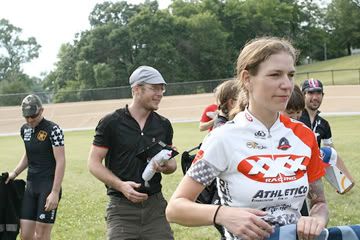 Val Brostrom of Chicago and Lyle Hanson of Madison
took it for the City Bikers!!
PHOTOS FROM THE TRACK
Peter DiAntoni
kjacobs flickr
ffonst flickr
lyle's flickr
jeffjkao
Later that night there were IroSprints at a cool warehouse space!


Bobcat w/OLSTYLE Disc Wheel
VELO CITY CHICAGO RESULTS
Messenger Male
1. Andrew Nordyke, CHI
2. Jeff Perkins, CHI
3. (tie) Brean Shea, CHI / James Lalonde, MKE
5. Al Urbanski, CHI
Messenger Female
1. Jen Greenberg, CHI
2. Anzie Nelson, CHI
3. Kelly Petersen, Madison
City Biker Male
1. Lyle Hanson, Madison
2. Ted Burger, CHI
3. Henry Loud, CHI
4. Simon May, CHI
5. (tie) TJ Kells, MKE / Ben Van Couvering, CHI
City Biker Female
1. Val Brostrom, CHI
2. Katy Steudel, MKE
3. Michelle Davis, CHI
4. Emily Willobee, CHI
Da Ali G Cat Results
(top 3). We had 57 racers. 13 women!
Male
1. Jeff Perkins
2. Rob Ehrman
3. Max Riordan
Female
1. Anzie Nelson
2. Michelle Davis
3. Emily Willobee

THANKS AGAIN TO ALL OF OUR TOUR SPONSORS!!!
Pabst Blue Ribbon
Manhattan Portage
Knog
Crank Brothers
Walz Caps
Kryptonite
Phil Wood
Van Dessel
Seagull Bags
Swobo
And Chicago's Local Sponsors:
Yojimbo's garage
xxx racing/athletico
g boutique
jonny cycles
crumpler
Bari (the sandwiches)
Adam Clark
SEE YOU NEXT YEAR!!!
Posted on June 21st, by Squid in
Blog
.
Comments Off
Thursday June 21, 2007
Ran into an old friend and former bike messenger yesterday.
JOE DOWNLOW still keeping it HARDCORE!!

Posted on June 20th, by Squid in
Blog
.
Comments Off
Wednesday June 20, 2007
Look who is riding Fix!!


That's Reggie's old frame, GO BILL!!!
Did a video shoot with The Last Goodnight on Saturday


Thanks to Jill from PitchcontrolPR for hooking me up!!
Posted on June 16th, by Squid in
Blog
.
Comments Off
---