Blog
Posted on December 13th, by Squid in
Blog
.
Comments Off
Posted on December 8th, by Squid in
Blog
.
Comments Off
December 8, 2006
Pictures from 12/4 thru 12/8
This is Horace! Working bicycle messenger for 30 years.


Cold this morning and windy! Well below freezing the first time this December.
Want to shout out the Angel(s) who replaced the stem/bars on Bronx Jonnies Ghost Bike!! Some sad soul needed to 'borrow' the painted ones!?!?!?

Carlos rocking one of our new street helmets..


Thanks to Ian and Bern!
Gave a dollar to the SA Crew at Rock Center..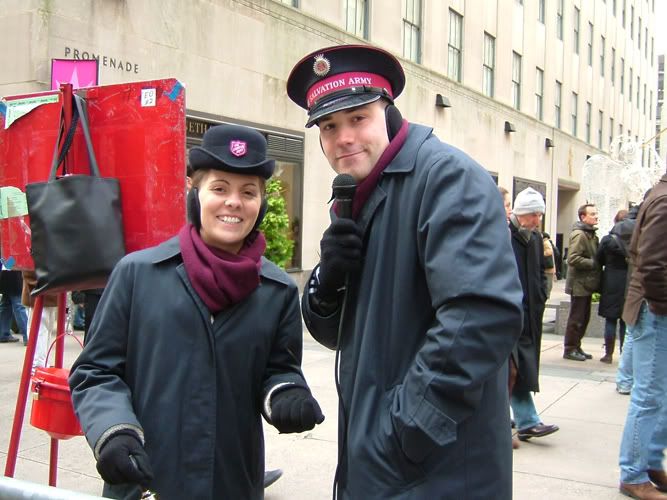 Picked up some skeleton gloves on St. Mark's. Hey that's Void!!

Ran into Felipe by 919 3rd Ave.


That's a Dank Bag he's rooting around in, what's he looking for??
Posted on December 1st, by Squid in
Blog
.
Comments Off
Posted on November 30th, by Squid in
Blog
.
Comments Off
11/30/06
Stopped by Bike Works, the place looks different! Nice work Erin!!

BIKE WORKS RULES!!! (Check out Dave's styling Jacket!)

I was busting out the digital camera today, ran into Noah and Carlos by 75 Rock. Noah has been a messenger for 25+ years!! He taught me fixed gear skills when I was a rookie coming up in the early 90′s..

Carlos Suave

Met my brother for lunch around 1:30pm. He is in paramedic school right now.

Felipe's Bike at 15 East 26th St.

Posted on December 18th, by Squid in
Blog
.
Comments Off
It was Hugo who told me about the 8th Annual Winter Solstice race in Houston Texas on December 17, 2005.
I talked with the team and we were as one on the subject, Lets Go! Seven of us flew from JFK on Friday evening, compliments of Puma NA. Felipe, Carlos, Alfred, Amy, Todd, Hugo and Yours Truly. A fearsome crew to be sure! Other New Yorkers made the trek as well. Yeti, Freddie, Alex, Eric, and a few whos names elude me.
This was my first time staying in Houston and I was pumped to see Da Kid (main organizer), whom I know from many World Championships.
We rendezvous at a bar called Farmers. The Gold Sprints were already rolling when we rolled up.
Kid was the MC and also built the Gold Sprint machine. Props! It was a sturdy construct with a video monitor so the crowd could watch the action (mph and distance/time) as riders battled head to head.
I was catching up with Texas peeps and sampling the local brews. They had $2 Lone Star and Shiner Bock in the bottle. Also $1.50 Lone Star cans (for budget conscious drinkers).
The Gold Sprints ran smooth as sin. The pink bike was winning a lot early in the evening, the yellow bike started winning later on.
In the end it was my crew all the way! Felipe took Gold with Alfred in Second and Carlos rounding out the top three. Thats my crew, What!
We met for breakfast on Saturday with a bunch of messengers at an excellent Mexican restaurant about ten minutes from the downtown core. Houston has a bunch of tall buildings and the architecture has its own flavor. The streets are wide, they do things BIG in Texas.
We went to the start around 2pm. It was a house in the sixth ward. Their was little or no car traffic with a large flatbed across the street and a super cool door to a building that later hosted a Secret Santa party (?).
Someone busted out a big tub of chalk and people made a nice canvas on the blacktop street.
The course was a ten square block zone with ten checkpoints. Our mission was to complete as many deliveries as possible. Picking up envelopes and delivering, getting signatures at every stop. When you complete your manifest you bring it back to the start/finish and pick up a new one. It was timed at 90 minutes, when the race ended all the deliveries were tallied by Kid.
It was an awesome ride and the format was very friendly for out of towners. I was riding with Alfred and Yeti for the first checkpoint, however I lost them in my psycho zone soon after. With the map provided and the familiar street grid style I had figured out the course by the time I finished my first manifest.
One checkpoint involved a flight of stairs and crossing a parkway, another at the top of a tri-level parking garage. There was even a wrong address! It was written as 408 xxx st. but the number turned out to be 908! That messed me up twice, had to laugh the second time.
The winner and two time winter Solstice Champion is James Benitez!
Alfred took Second place overall and first out of town! Hugo, Carlos and myself all placed top ten.
Props to Yeti for a strong Third place finish.
The foot down was intense. A lot of pretzels and spectacular crashes. Alain from Dallas took the Track Stand competition.
World Champion Squirrel held it down for Houston in the skid competition, with Alex in second.
The Award Ceremony was on the flat bed with lots of cool prizes and beautiful trophies. Everyone proceeded to get hammered.
Six of us flew back Sunday morning. Hugo stayed on, last I heard from him he was heading for Dallas by bicycle (of course!).
Thanks to Da Kid and all the Texas posse who made us feel welcome and showed us all the good stuff!!
Ride Safe and Until We Meet Again, Happy Trails..
Posted on August 7th, by Squid in
Blog
.
Comments Off
Check out Carlos Videos!! He has more than 30 originals on Youtube.

VIDEOS FROM TRACK EVENTS ORGANIZED BY CYCLEHAWK…
Kissena Mesenger Series 2004 (Week 1)

Bigger Version
Kissena Mesenger Series 2004 (Week 2)

Bigger Version
Kissena Mesenger Series 2004 (Week 3)

Bigger Version
Kissena Mesenger Series 2004 (Week 4)

Bigger Version
Kissena Mesenger Series 2004 (Week 6)

Bigger Version
Kissena Mesenger Series 2004 (Week 7)

Bigger Version
Kissena Opening Day 2004

Bigger Version
CMWC 2005 Sponsor Promo


Velo City Tour 2006 on NBC 4

Carlos Promo for Velo City 2006

Mike Green's Velo City NYC (part 1)

Mike Green's Velo City NYC (part 2)


Velo City Los Angeles 2006 (part 1)


Velo City Los Angeles 2006 (part 2)


Velo City NYC Rain Day 06

---