Media/Sponsors
---
Posted on January 2nd, by Squid in
Media
.
Comments Off
---
PRESS
I am a bicycle messenger in New York City since 1992. I love racing and organizing events. Looking forward to working hard and killing it with my crew in 2012 and Beyond!
Wednesday August 5, 2009
GREG UGALDE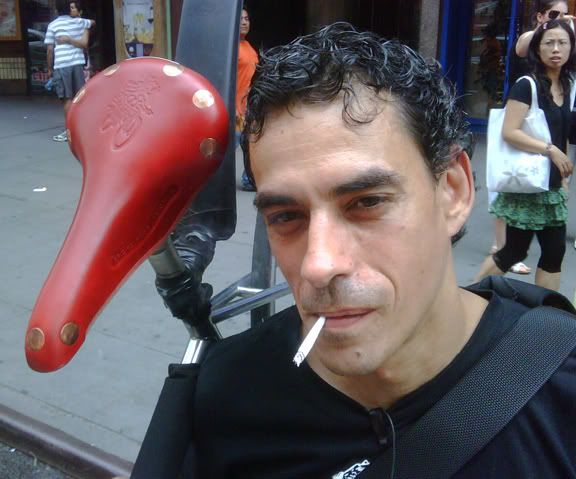 ON YER BIKE AVAILABLE AT BROOKS


ON YER FEET! 100 PAIRS GIVEN AWAY AT NACCC BOSTON


PICS BY AMY THANKS PUMA NORTH AMERICA!!
Thursday July 9, 2009
Check us out on..


Mt. Borah Custom!
Tuesday June 23, 2009
BROOKS AND UGALDE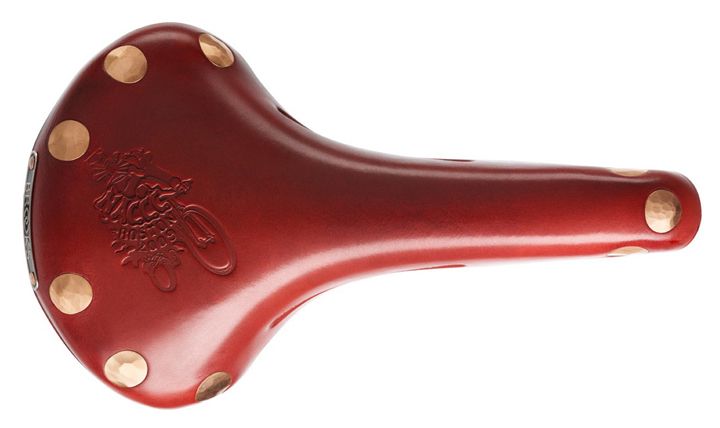 GET IT AT NACCC BOSTON

Monday June 1, 2009
SO FRESH!!


CHECK IT!! AMY SLIDESHOW

Friday May 29, 2009
NEW HATS NEW JERSEYS


SORRY KIDS, EMPLOYEES ONLY!!

MORE PICS ON THE WAY HAVE A GREAT WEEKEND!!!
Tuesday May 26, 2009
THANKS CARLOS!!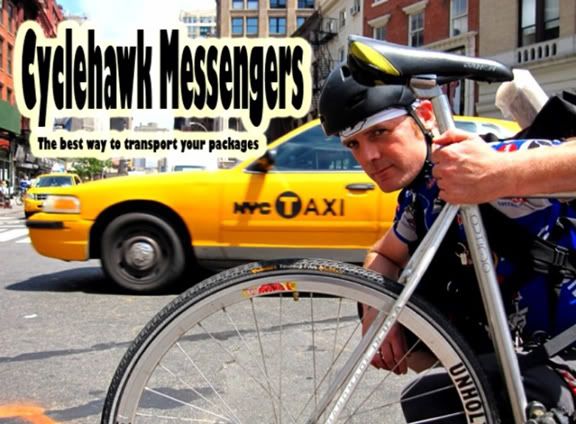 Tuesday May 5, 2008
SAFETY FIRST!!


THANKS BERN!!
Tuesday April 28, 2009
Thanks to Jason at TEAM SCREEN NYC


YOU CAN GET THESE AT A VELO CITY NEAR YOU!!

PERFECT FOR WORK OR THE TRACK!!


CYCLEHAWK STICKY GLOVES!!!
Tuesday April 21, 2009
Yesterday was crazy! Heavy Rain and busy busy.
Check out Hugo and Colin in the Daily News Nice!!

Jorg from Continental is in town, we met up at City Bikes

Wednesday April 15, 2009
Four copy boxes? Yes we can do that..

Wednesday March 4, 2009
Always the Best! KEVIN DILLARD MONSTER TRACK X

Tuesday March 3, 2009
CARLOS IPHONE WHITE HEAT!!

BIGGEST SNOWSTORM SINCE 2004, NO PROBLEM!!!

Monday March 2, 2009
SNOW DAY!!


OLIVER RIDE SAFE!!
Wednesday February 18, 2009
CYCLEHAWK NYC ON NEWS 12 BRONX

Friday February 6, 2009
SIXPEEPS IN NYC


MORE PHOTOS CLICK>>MARK CAFIERO
DID AN INTERVIEW..


FOR MORE CLICK HERE>>OCCUPATIONAL HEALTH AND SAFETY
Tuesday February 3, 2009
THANKS AMY!! http://amybolger.com

Saturday January 24, 2009
Carlos New Sponsor Video, FRESH!

Thursday January 22, 2008
We are in this weeks Time Out New York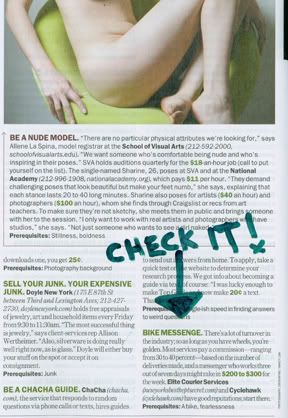 Thanks Kate!!
Teusday November 25, 2008
Thanks CARLOS and CONTINENTAL

Thursday October 2, 2008
Thursday September 25, 2008

YO AMY!! more pics from last Thursday CLICK HERE

Puma Sprints Part II: Congrats to Al and Jody,
They won Cannondale frames!! Thanks to Vice
for the space and help..
Tuessday September 16, 2008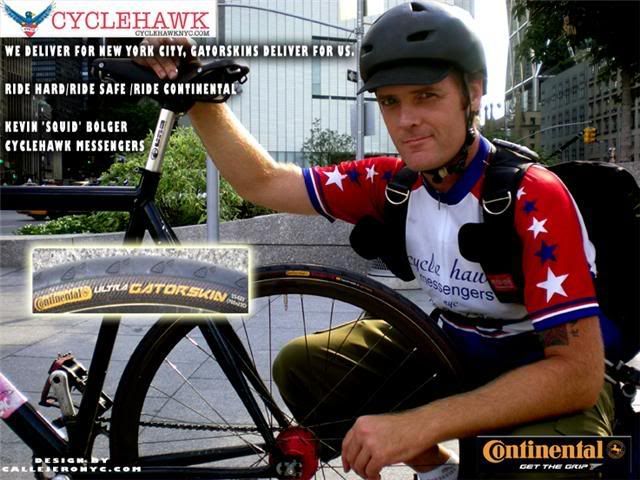 Tuesday July 8, 2008
BERN Poster dropping soon..

Thanks Simon!!


CYCLEHAWK ARTICLE HIPSTER NASCAR
Tuesday June 17, 2008


Talked to a reporter from Time on Sunday CHECK THE ARTICLE HERE
For the record I did 16 deliveries on my bike yesterday!
Friday June 6, 2008
Was interviewed for the upcoming Harlem Skyscraper
Thanks to John Eustice at Sparta Cycling!


Velo News Article
Monday March 31, 2008
Made Today's NY Post! Thanks to C.J. Sullivan and Zandy Mangold

Sunday March 30, 2008
In issue #6 of Urban Velo

Sunday March 2, 2008
From Carlos! More at http://callejeronyc.com

From Cog Magazine
<
Friday October 26, 2007
Thursday October 25, 2007
National Television 2006:
4 World of Adventure Sports 9/17/06

CLICK HERE>>>Team Cyclehawk Photo Shoot

Tuesday October 9, 2007
Check out Carlos and Squid
Rocking it in the 2008 Bern Catalog


Photos by Adam Blauer

Thursday September 27, 2007
Check it out from Ft. Collins!!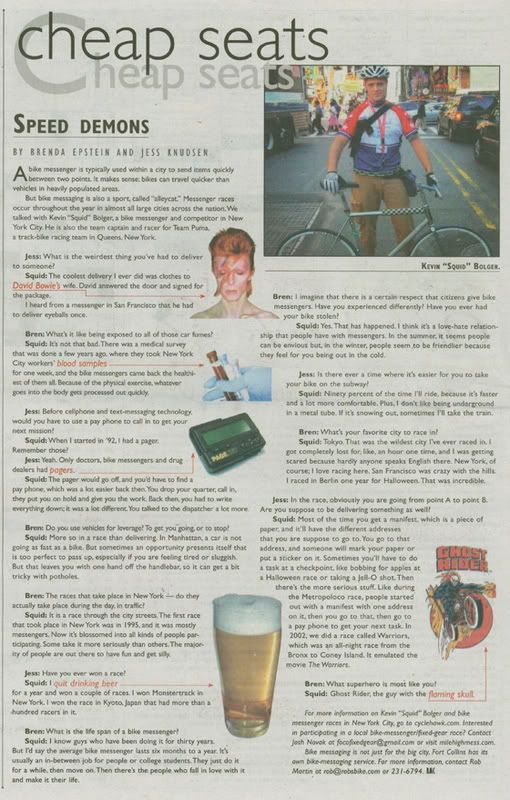 Jan from NZ made a great film about global couriers.
The full length version features an interview with Duke
from Elite Couriers (Rest In Peace Brother!)


Godmachine Trailer
August 9, 2007
Monday May 14, 2007
Nice piece on Current TV by Andrew David Watson

>>CLICK HERE IF THE SCREEN IS BLANK<<
Sunday April 29, 2007
THIS IS WHY WE ARE HOT KIDS!!
NYTimes City Section
*CLICK FOR ARTICLE* *CLICK FOR SLIDESHOW*

Events Organized:
Halloween NYC 1995
Halloween NYC 1996
Halloween NYC 2003
Halloween NYC 2004
July 4th NYC 1996
July 4th NYC 1997
BMC Software Pro Cycling Tour: Messenger Challenge NYC 2003
Body Glove Messenger Challenge 2003

Kissena Velodrome Messenger Race series 2004

BMC Software Pro Cycling Tour: Messenger Challenge NYC 2004
Cycle Messenger World Championships New York City 2005

VELO CITY TOUR 2007


VELO CITY TOUR 2008
Community Work:
Founder of the New York Bike Messenger Foundation , a 501c3 Nonprofit.
Along with my wife Amy, proud to receive the
2006 Marcus Cooke Award
I work Monday through Friday on my bike and as the bike fleet manager at
Cyclehawk Messengers Inc.
Working to support the NY Bike Messenger Community and also the North American and World Community by raising awareness and sponsorship for annual events including:
Cycle Messenger World Championships Toronto June 13-16 2008
North American Cycle Courier Championships Chicago August 29 – September 1 2008

Career Best Racing
Fourth Annual Monster Track NYC: 2003
1st Place: Overall
Kyotoloco: Kyoto, Japan 2003
1st Place: Overall
Cranksgiving NYC 2003
1st Place: Overall
Cranksgiving NYC 2004
1st Place: Overall
BMC Software Pro Cycling Tour: Messenger Challenge NYC 2003
1st Place Team
BMC Software Pro Cycling Tour: Messenger Challenge NYC 2004
1st Place Team
Wachovia Pro Cycling Tour: Messenger Challenge Philadelphia 2004
1st Place Team
Kyotoloco: Kyoto, Japan 2005
1st Place Team: Dispatch Race
Sixth Annual April Fools Race, Philadelphia 2006
1st place: Overall

Top Race Results 2006
Boston Schlitz and Giggles
February 25th
1st Place: Out of Town
Los Angeles Urban Assault Race
March 26th
1st Place: Mens Division
Sixth Annual April Fool Race, Philadelphia
1st place: Overall
April 22 Godfather Alleycat NYC
1st Place Team: Overall
---
---