Posted on April 15th, by Squid in
Blog
.
Comments Off
Posted on April 9th, by Squid in
Blog
.
Comments Off
Monday April 9, 2007
Tadeusz for the WIN!!


More Pictures from Marco

TODD'S RACE REPORT (from yesterday's Category 3/4 Central Park Spring Series Race!)

From the start 4 or 5 Merril Lynch guys got to the front and where driving hard so I decided
to watch Dimitry from behind his rear wheel. Neither Affinity or Babylon were present.
The field started to strech after the hill. Shortly me and 6 other riders got a gap.
Orcutt and Dimitry were attacking but I was responding to Dimitry only. Soon, Dimitry attacked
with me on his wheel, we exchanged a couple pulls, "Sanchez" bridged and we were free
for 3.5 laps till the finish.Dimitry pulled a lot. Sanchez was accelerating hard after my pulls
so I had to bridge right after pulling a lot of times (fucker lol).
Before the finish, around columbus circle, Sanchez attacked twice. We were slowly approaching
the finish, watching each other like in a match sprint. Dimitry jumped, I jumped,
Sanchez didn't have it. I got it by a bike length at the line.
I'm leading the series with 3 more races.
Posted on April 8th, by Squid in
Blog
.
Comments Off
Sunday April 8, 2007
What the!? RICHMOND STYLE!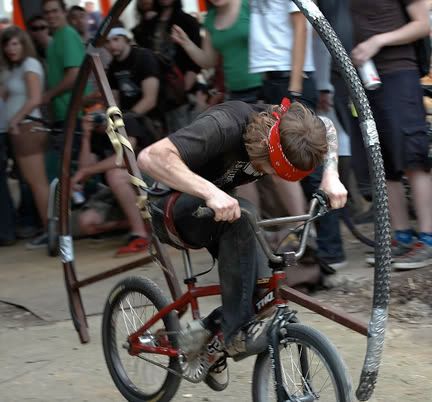 Kevin Dillard at Slaughterama
Posted on April 6th, by Squid in
Blog
.
Comments Off
Friday April 6, 2007
Carlos strikes again! Track City Films: Velo City 2007 Promo

Special Thanks to DEATH MOLD NYC SPORE CORE
for the music!
Posted on April 3rd, by Squid in
Blog
.
Comments Off
Tuesday April 3, 2007
Chicago Rocks Out! With their fresh set up IRO Sprints!!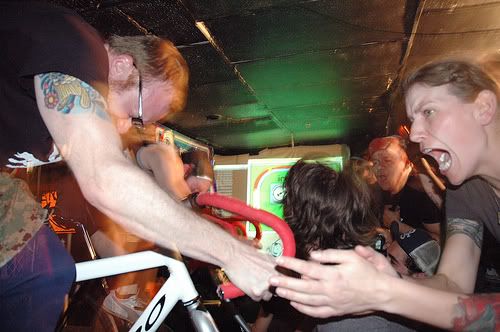 Tell 'Em Val!!

and Brean! Damn Brother, good to see you too!
April Fools, NYC!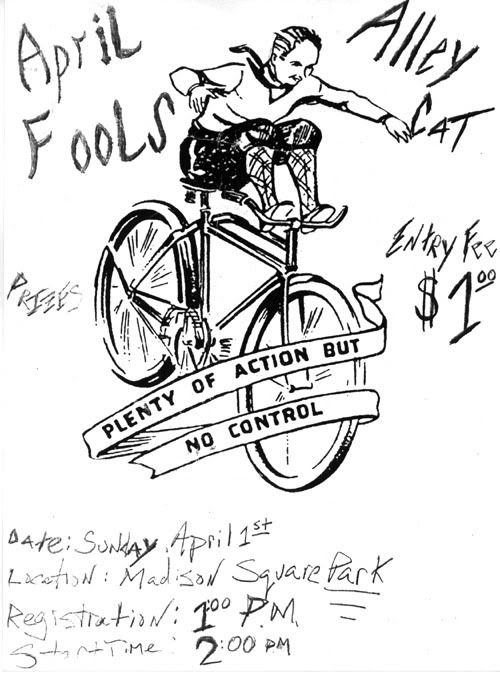 Posted on March 25th, by Squid in
Blog
.
Comments Off
Sunday March 25, 2007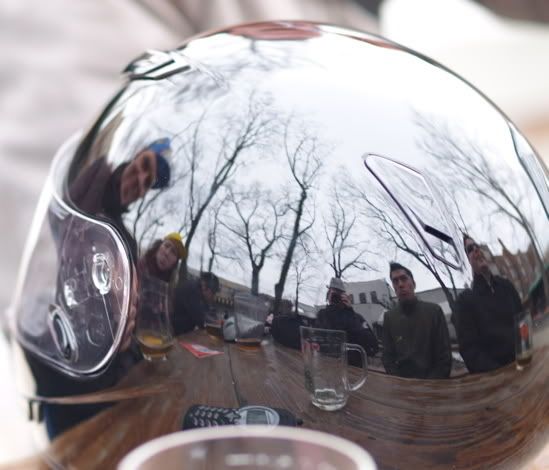 Photo by John Rogers
Rode to the Bohemian Garden and Beer Hall yesterday. It was great
weather to cruise thru Queens and kick a few pints with good friends!
Posted on March 23rd, by Squid in
Blog
.
Comments Off
Friday March 23, 2007
Want to send out a lot of positive energy
and shout outs to my true friend of many years
Silver Love You Brother!!!


I was interviewed by Andrew David Watson
yesterday, he is working on a piece for current tv.
Check out this one he did about Philadelphia Bike Culture


EURO MESSENGERS!!!
Posted on March 22nd, by Squid in
Blog
.
Comments Off
Thursday March 22, 2007

FELIPE UNSTOPPABLE!!!

THE KING CRUSHES ALL FOR VICTORY
AT GLOBAL WARMING RACE!!!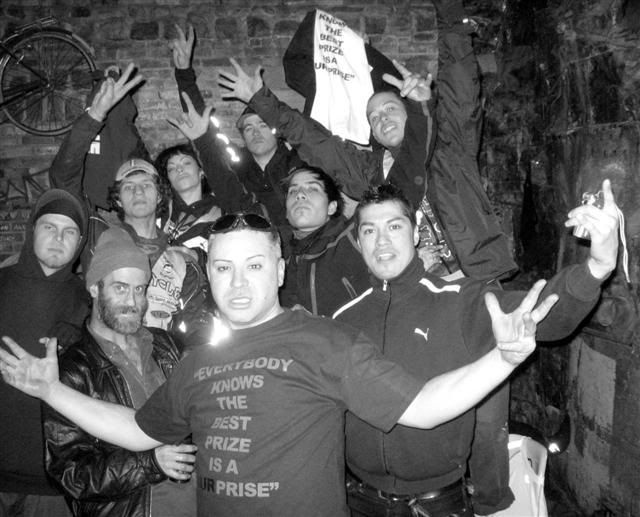 photo by FREEWAY
Wednesday March 21, 2007
Chitah is one of my Homies from a ways back! He is hosting King of Spring
It is gonna be ILL BISCUITS!!!


for more info check out PBMA

FIXIE KING DK

Carlos Updated the MT site, Check It!
Videos
Pictures
Upcoming
Posted on March 19th, by Squid in
Blog
.
Comments Off
Monday March 19, 2007
TRACKOSAURUS REX posted a link to Amy's Site


EAST COAST WEST COAST ONE LOVE


Monster Track 2007
Bigger Version
Felipe on the wheel at the Trackstar X DQM Show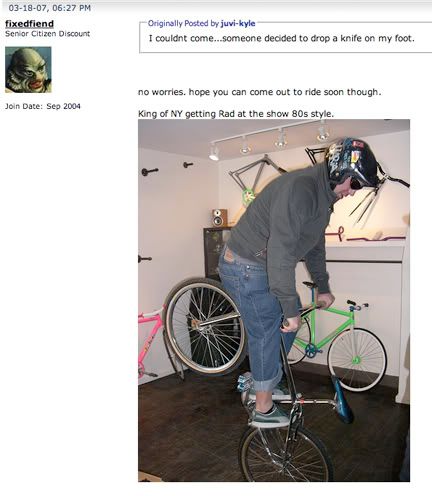 Posted on March 13th, by Squid in
Blog
.
Comments Off
Tuesday March 13, 2007
HURT 'EM HAMMER!!!
Tadeusz is crushing fools in the Cat 3/4 field at Central Park!


Photo By: Andrew Kozak
From the man himself:
It was completely dark for the first lap,
hard to see the wet white lines.
Right before start, after talking to some guys,
Tyler said it is going to be fast. He was right,
my legs were burning for the first couple miles
but then I warmed up and it was cool.
We dropped more then half of the 3/4 field on the first lap.
I got second in the field sprint.
Got some goodies for the Velo City Tour from
Crank Brothers and Kryptonite
THANKS!!! Our Sponsors ROCK!
Subway is doing a bicycle promotion in Manhattan today,
the King caught up with the crew at 8th and Forty-Duece..

Friday March 9, 2007
18 degrees 10:01 a.m. Rocking my custom painted Bern!


Artwork by Greg Ugalde
---